Welcom to Coconut Grove Sails and Canvas.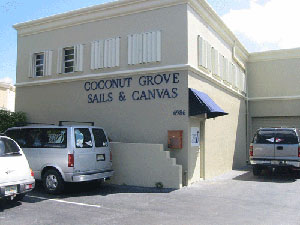 Since 1990, Coconut Grove Sails and Canvas has provided the Miami area with quality, custom-made sails and canvas for boaters and their vessels (sail and power). We are located at 6986 S.W. 47th Street, Miami, 33155. Let us provide you with the best!
The owner and operator of Coconut Grove Sails and Canvas is Carla Schiefer. With over 40 years in the Miami area, Carla began her sailing career in 1985. Carla's impressive sailing credentials rank her as one of the pre-eminent female catamaran sailors in the United States. Currently, she races extensively in local and international events on an A-Class Catamaran and the new M-20 Catamaran. She is currently the class measurer for the A-Class Catamaran and the Olympic- Tornado Class (national and international), and an international measurer for the Melges-class. In both the 1992 and 1996 she sailed the Tornado in the U.S. Olympic trials. She is married to John Schiefer, who brings an impressive 40 years of sailing experience including the 1972 Olympics and several Maxi Regattas.
We can make you your custom sails and canvas.
Just give us a call at 305-668-5001 to discuss your sails and canvas needs.